It's National Donut Day!
If you're in Panama City Beach and looking for the best donuts around, we've got you covered.
History of the donut
Before we chow down, first a little history lesson. Where did the donut come from? Go back far enough in history and the origins of anything get a little convoluted, and the donut is no exception. The donut can be traced as far back as prehistoric Native American settlements, but the modern donut is usually attributed to the Dutch, given prominence by homesick American servicemen during WWI. Donut machines soon followed, becoming a public spectacle in the early 1920s New York.
Is it donut or doughnut?
Technically, both. Spell it however you'd like.
Donuts in Panama City Beach
You didn't come here for a history lesson, so lets get right to the sweet goodness that brought you here in the first place. Where do you go for a donut when you're in Panama City Beach? No matter where along the 27 miles of beautiful sugar white beaches you may find yourself, a quality donut is never far away. Let's dive in!
In order of proximity to The Curvy Palm: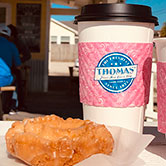 Thomas Donut – 19208 Front Beach Rd: 2.5 mi
As the name suggests, you can get much more than some fried dough in this joint. The donut selection is good, with a long list of freshly-baked options, including an ever-changing assortment of specialty donuts. Come back in the afternoon and cool down with some hand-dipped ice cream. There might be a line, but it goes quick. It's the closest to The Curvy Palm, and potentially the best, too! thomasdonutandsnackshop.com
Donut Hole – 12983 Hwy 98 E: 4.2 mi
You can get a great breakfast here, or lunch, and even dinner. It gets packed, so get there early (they open at 6am). This may not be the best donut in town (but they might), but the waffles, pancakes and other breakfast items are fantastic. As for donuts, they have all the classics as well as fun flavors like key lime, Oreo, red velvet, etc. Definitely something for everyone's tastes. donutholedestin.com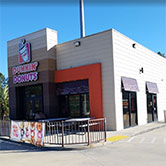 Dunkin' – 22909 PCB Pkwy – 2.0 mi
Yes, this is out of order. Dunkin' is the closest donut shop to The Curvy Palm. They say "American runs on Dunkin'" and who am I to argue? However, if you're in town visiting, I implore you to try all the local places, whether they be donut shops, restaurants, coffee shops, etc. You can get Dunkin' anywhere, anytime, so try something new!
have a great visit and enjoy your donut!