If you're like me, you probably have a favorite watering hole nearby at home; the type of place you always feel comfortable, and maybe they even know your name. It's not always easy to find something similar when you're on vacation, but for many, The Old Beach Bar fills that role nicely.
According to their web site:
"The Old Beach Bar rocks with delicious cocktails, sizzling burgers, live music that kicks ass all night, and karaoke events that will make you a new friend or two. The beer is cold, the pool table is a magnet, and the people are all-star partiers."
We couldn't agree more.
What iT is, what it isn't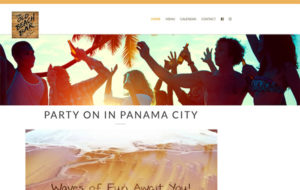 Now, we can't guarantee that The Old Beach Bar will become your new favorite vacation hangout, after all, we all have different tastes, different wants, different needs, but we'll try our best to give you a good idea about what to expect.
Their web site delivers a visual of some young, attractive, scantily-clad folks with their hands and drinks in the air, under a palm tree, and presumably on the beach. This looks like a good time. This is not the type of good time you'll find at The Old Beach Bar.
That's not to say that the crowd is old, ugly and boring. Definitely not boring. OK, maybe a little older, and maybe not quite as pretty as the crowd on their web site. If you're looking for a neighborhood dive bar, come on in.
Contrary to its name, it's not actually on the beach, although it is across the street. Out back you'll find a chain link fence that keeps you from accidentally falling into the small lake behind the property. There is some sand, but that's reserved for parking for those who don't live close enough to stumble home by foot.
The Skinny
As you walk in the door, you'll find the stage to the right, often graced by a cover band playing some classic rock, country or classic country. You're in for a treat if you walk in on karaoke night (I think Fridays, best to double check if that's important to you!). There's a long bar down the left side, tended to by an attentive staff ready to hand you a cold beer. There are a couple of pool tables toward the back, along with the kitchen window and bathrooms.
Venture outside on a nice day or evening and saddle up to the outside bar, or grab a table with friends on the patio. Try your hand at the ring toss game mounted on a column under the bar, but beware that after 100s of unsuccessful tries, I did discover the string was just a little too short to actually ever get the ring on the hook.
The Old Beach Bar is perfect if you want to meet and chat with some local folks and enjoy a fun, un-pretentious night. The beer is cold, food is cheap and the good times go on and on.
See ya there!