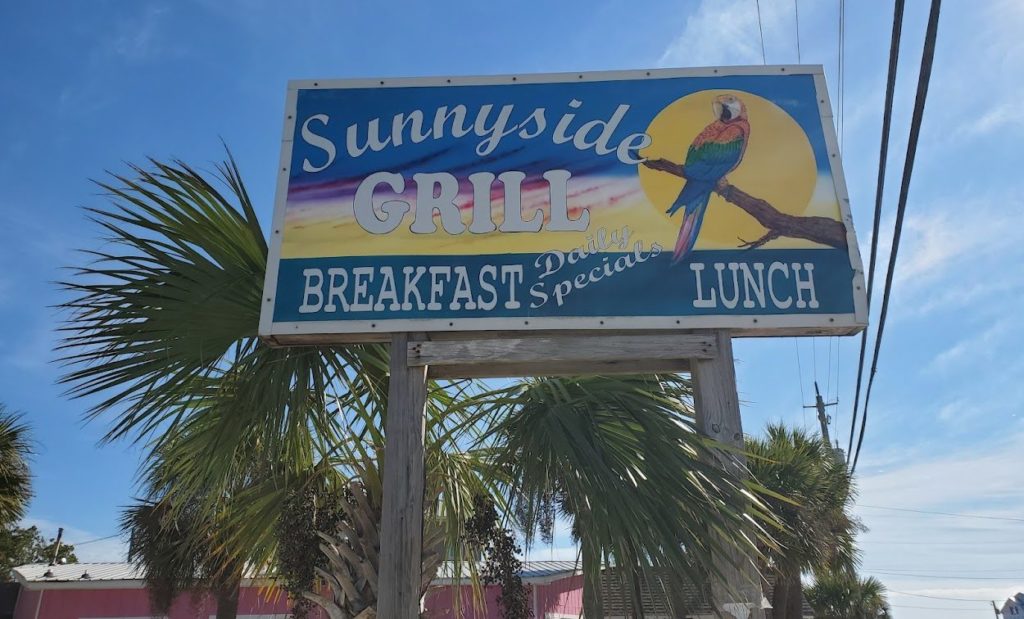 No stay at The Curvy Palm would be complete without at least one visit to our favorite neighborhood greasy spoon, Sunnyside Grill.
They're only open for breakfast and lunch, Wednesday-Sunday, so you'll need to plan accordingly. We recommend going early in your visit, so you don't leave kicking yourself, muttering under your breath, "wish we'd have gone there sooner and gone there every day." The Sunnyside Grill definitely belongs in the conversation of "best breakfast in Panama City Beach."

You can't miss the bright pink structure or their brightly-colored sign adorned with a parrot and a sunset (or is it a sunrise?). Nor will you miss their other sign, proudly covering the front of the building featuring more tropical birds, flowers and of course, a mermaid. There is no doubt this place belongs at the beach.
The menu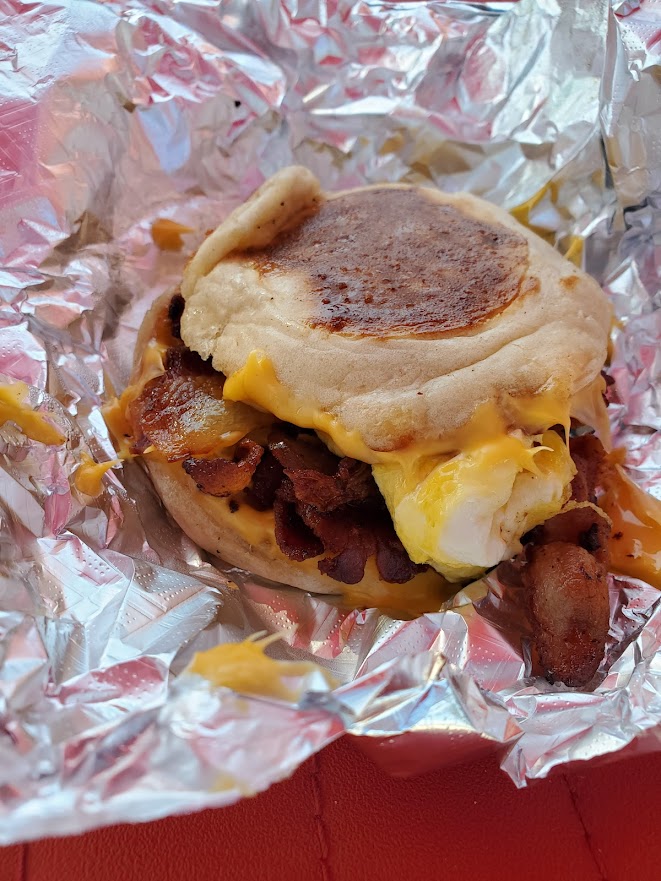 On the breakfast side of the menu, you'll find all the classics; eggs, bacon, sausage and any combination of any quantity of any of those items. You can get a three-egg omelette, a breakfast sandwich, biscuits and gravy, pancakes or waffles. There are plenty of other options, too, but you get the point. There's not many places you can get a good breakfast for less than $8 a person, but you definitely can here.
Come later in the day, perhaps on a break from the beach, and try out their lunch. There are plenty of fried foods, sandwiches and burgers to choose from, no matter your mood, and a whole kiddie section devoted to the little ones. Plus, there are always new daily specials always certain to whet your appetite; look for those on the bright neon sandwich board outside. Heck, you can even get a mug of draft beer for under $2.
A True Greasy spoon
The Sunnyside Grill isn't going to win any awards for fancy decor, and you might not even be surprised if they didn't pass a health inspection. The walls are covered in (mostly) single dollar bills, left behind by patrons of yesteryear, many with a name, or a note, or both. You'll notice quite quick that the owners are proud of their Steelers, with a few photos and newspaper clippings scattered amongst the paper currency wallpaper.
The grill itself is where you'll the more political-leaning decorations, and while you might not agree with some of those, I doubt you'll find anyone willing to debate the "I ♥ Bacon" pronouncement.
Located right across the street from the beach, and a quick golf cart ride down the road from The Curvy Palm, it's our go-to for breakfast and lunch whenever we're in town. The people are friendly and the food is tasty… just what a neighborhood joint should be! Next time you're down on our end of the beach, be sure to pop into one of the best local breakfast spots around.